Posted by The NoseSecret team on 28th Apr 2016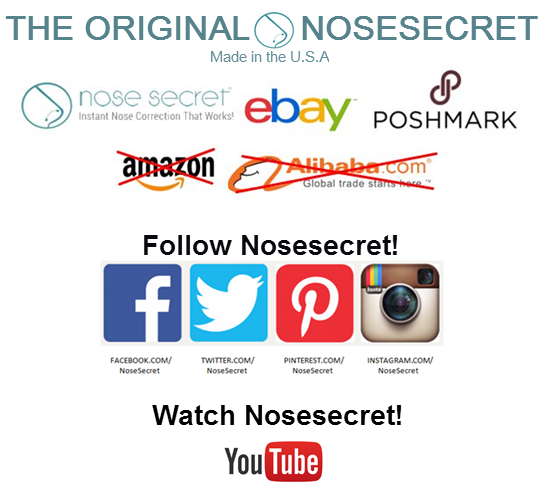 We have spent a great deal growing our brand, serving our customers and providing the best customer support to our worldwide audience for over twelve years.
Our work had paid off. However, our good reputation had inspired some of the not so good people to copy and sell their own version of the product using our brand name without authorization, deceiving customers in the process.
We are the authentic original NoseSecret® nose reshaper! . We make our products in the U.S.A. and we take pride of the quality and service provide to our customers
Safety comes first! We use medical grade, quality plastic in our nose shapers. Our unique design was tested for safety, comfort and results. We have gone through lengthy work to create manuals, guides, and videos to show users how to safely wear Nose Secret.
NoseSecret® is a registered trademark so if you see our trademark used to sell an "unknown brand" , be aware that you are about to be scammed. If you have any questions regarding a re seller always reach out to us to keep the bad guys out. Unfortunately, we have received complaints because of scammers! Don't fall for it!
Even when you think you might find NoseSecret® in Amazon, NO , we do not sell on Amazon. If you see somewhere on the web "NoseSecret® in Amazon" , rest assured that that is another attempt to illegally use our trademark.
Where to buy original NoseSecret®?
The number one go place to buy the authentic product is our website at www.nosesecret.com.
We also sell to Ebay shoppers under the accounts "NoseSecret" and authorized reseller account "Fabtrend" . IN addition you will find us at Poshmark
Let keep in touch. Follow us:
Facebook/nosesecret
Twitter/nosecret
Instagram/nosesecret
Pinterest/nosesecret
Youtube/nosesecret
We post daily about our products and latest offers ! Reach us via phone or text at (201)266-0077 or Email at customercare@nosesecret.com