Posted by NoseSecret on 7th Feb 2021
Five nose imperfections you can fix without surgery for less than $30
You probably know how the facial features are good for those first impressions, right?
And one of the first things that someone notices in your face is the nose – after all, it's taking a central position on your face. For years, the shape of the nose has been a pivotal point of self-hate and low confidence. Those who are not blessed with the "perfect" nose genes are most likely to want to change that.
However, a nose job is expensive, painful and the recovery takes months to recover. Furthermore, like with any surgery, there might be complications.
This is why, before rushing to get rhinoplasty, why not try one of the hidden secrets of a DIY nose job?
With NoseSecret®, you will never have to spend a fortune on painful surgeries or spend your months recovering. Instead, you will get to feel comfort, instant results, and confidence-booster!
Read how NoseSecret® can fix nose imperfections for as little as $30:



1. Make the nose smaller
Having a small, pointy nose is one of the most desired nose alternations. But the truth is that you don't need to spend your hard-earned money on a nose job. With NoseSecret®, your nose will appear to look smaller.
2. Ease a nose hump visibility
Do you have an annoying hump that you would LOVE to get rid of? When the plastic splinters are inserted inside the edge of each nostril, they will instantly lift your nose tip and narrow the nostrils' width. In turn, any nose humps will be concealed.
3. Lift a droopy nose tip
The most common reason for a droopy or bulbous nose tip is age. Once the cartilage framework starts weakening with age, the skin becomes sagging, creating the illusion of a larger, droopier nose.
If you want to feel young again, the NoseSecret's plastic splinters are designed to instantly lift the nose and bring the youth back to your face.

4. Make Nose slimmer
If you feel like your nose can be slimmer, but putting on makeup and learning how to contour your nose is not for you, NoseSecret® will be your best friend! Once the splints are inserted, they immediately start working and lifting your nose tip, making it look slimmer.

5. Straighten a crooked nose
You don't need nose fillers or nose surgery to fix a crooked nose. If your nose is crooked, you can quickly fix it with the plastic splinters of NoseSecret®. The gentle pressure can straighten your nose and improve the appearance.
We want you to know that we care about how you feel, and don't forget that you deserve to feel beautiful and happy!
If you want to enhance your natural beauty and show up with the perfect nose – discover the PAINLESS at-home nose job by NoseSecret®.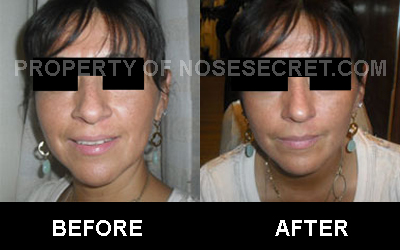 Get yours today at NoseSecret.com
_________________________________________________________________
NoseSecret® is an American brand that manufactures and sells the nose enhancer to correct minor imperfections of the nose without surgery. It is like a do-it your self-nose job in minutes. Made in USA . Find more information at NoseSecret.com