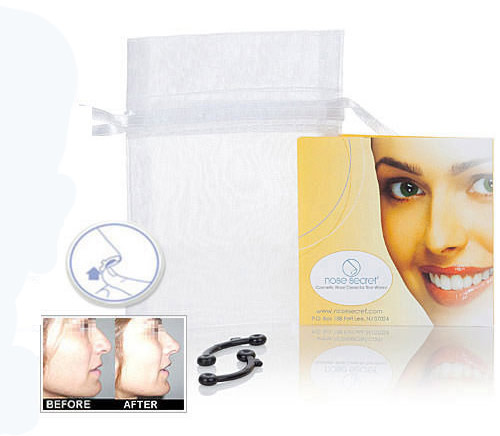 We all lead busy lives. We're all looking for simple solutions to the curveballs life throws our way. For instant and favorable results to correct flaws with your nose, Nose Secret is a DIY nose job solution that is guaranteed to leave you completely satisfied.
When you order a product kit, you'll receive instructions on how to insert the nose correctors into each nostril. It's a non surgical rhinoplasty effect that meets your expectations and allows you to keep up your daily routine without the recovery period after surgery.
A DIY nose job offers you the convenience of giving yourself a natural look without spending a fortune on surgery. There are many remedies out there that are hazardous to your health when you insert the material into the nose, but what makes our product stand out?
Custom manufactured by an experienced cosmetic professional, Nose Secret is produced under strict guidelines and created within the highest sanitary conditions for safety and comfort.
Every person is unique, and dealing with a distinct flaw. Nose Secret has 5 separate sizes to adhere to all those in need of reshaping their nose. From XS to XL, men and women alike can take advantage to fix their nose.
Instant Results. Once the splints are inserted, the nose is lifted and reshaped instantaneously. Placed on the inside edge of each nostril, when you want to enhance your facial features, the nose will be slimmed, refined, and/or straightened. Even if you're in the car about to walk into a meeting or store, you can easily insert them and nobody will be able to tell you're using our product.
We use plastic splints that are flexible so your nose reshaping without surgeryis as comfortable as possible. It will take some time to get used to wearing Nose Secret, but once you get accustomed to the feel, you'll enjoy your new "natural" look.
You can wear the splints as often as you would like. A few hours a day will do the trick, and though results will vary from person to person, you're guaranteed to be satisfied when the splints are inserted into your nose, or you can return it for refund, no questions asked.
A convenient and safe DIY nose job, you won't have to stress about your appearance anymore. It's an easy and reliable surgery alternative that is easy to maintain at a reduced cost.